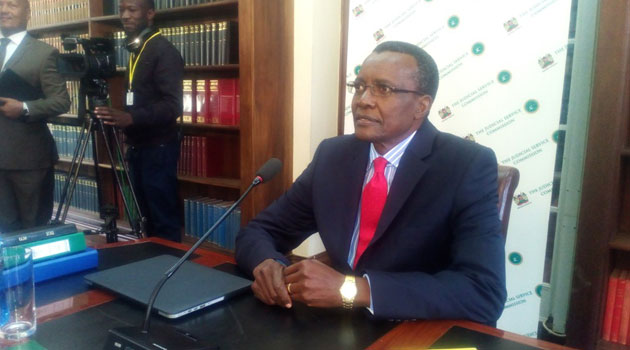 Judge David Maraga has been nominated as the new Chief Justice of Kenya.
Justice David Maraga, 65, will take over from Willy Mutunga, who retired in June 2016 if approved by President Uhuru Kenyatta.
The Judicial Service Commission announced on Thursday that the CJ will assume office with immediate effect.
The Kisumu-based judge was the third to be interviewed for the position of the next Chief Justice.
He was among 11 judges shortlisted by the Judicial Service Commission.
During the interviews, Justice David Maraga found himself at pains to demonstrate his expertise in applying the law in conflicting suits.
Attorney General Githu Muigai, one of the panelists, put him to the test, seeking to know how he would pass judgment in suits where two or several laws were at conflict.
He used a case study of a surrogate mother who decided not to give a child to its separated biological parents, who were both seeking custody.
Justice David Maraga admitted that the question was tricky but answered: "In this scenario, the child's interest is paramount."
During an interview with JSC, Justice Maraga had said that if appointed CJ he would name a senior judge as the Judiciary ombudsman and revive the programme for helping the poor with court cases.
He told the JSC that he would fast-track the implementation of the Legal Aid Act to ensure that justice is accessible to all.
He also said he would hire investigators to look into complaints against judges and magistrates with a view to helping to restore public confidence in the Judiciary.
Justice David Maraga said he would introduce an email address to receive public complaints on the conduct of judges, saying the use of suggestion boxes was outdated and