President Uhuru Kenyatta hired a luxurious private jet to pick ODM leader Raila Odinga from Dubai after the latter underwent a surgery to treat a nerve disorder that had affected one of his legs. This was a special trip as international flights in Kenya are set to resume on Saturday, August 1 after Kenyatta reopened the country.
Aboard the Private Jet Airbus A318-112 (CJ) Elite A6-CAS, MS4211 were ODM deputy leader Hassan Joho and Suna East MP Junet Mohamed on Thursday, July 9.
The two leaders posed for a photo upon landing in Dubai, with Joho lauding Captain David Cutajar and the crew for the safe flight. The Airbus belongs to Constellation Aviation Airlines based in the United Arab Emirates.
"Received a visit from Governor Hassan Joho and National Assembly Minority Whip Junet Mohammed," Odinga tweeted on Thursday, July 9.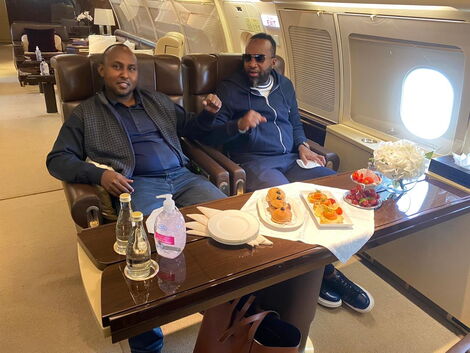 Suna East MP Junet Mohammed and Mombasa Governor Ali Hassan Joho pictured on their trip to Dubai on July 9, 2020
The 10-year-old Airbus landed in Kenya from the UAE through Zambia at approximately 11:23 a.m and took off with Joho and Junet at midday.
Inside the 19 seater plane, one has the comfort of enjoying a mahogany interior, an entourage lounge, a VIP dining, and lounge area, a private office, and a VIP bedroom.
It costs Ksh 1.3 million per hour to hire the plane. For the five hour trip to Dubai, it cost Kenya almost Ksh 6.5 million.
With private jets hired for a round trip, the plane will cost over Ksh 13 million with miscellaneous costs such as food and beverages and entertainment not included.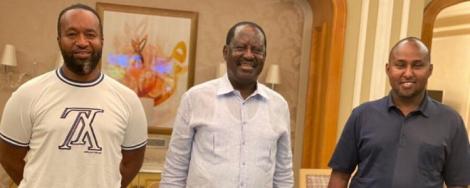 The price does not also include the amount paid for the planes trip from Zambia and the hours it stayed on the ground in Nairobi and Dubai before jetting back.
All this money was reportedly sourced from taxpayers' coffers allocated to the Office of the President.
Odinga is poised to return on Sunday, July 12, with sources detailing that he was to return earlier on. However, his family asked him to rest for a week ahead of the historical event of the presentation of the Building Bridges Initiative report. Odinga and Kenyatta are set to receive the report from the BBI committee.
"I am feeling great and let me thank everyone who sent me messages of goodwill. Asante, Asante, Asante Sana (thank you so much)," Odinga stated on Wednesday, July 1 after undergoing surgery, in a video shared by his daughter Winnie Odinga.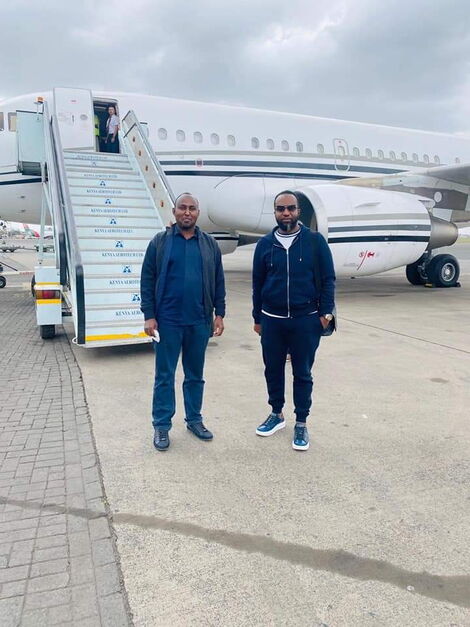 Suna East MP Junet Mohammed and Mombasa Governor Ali Hassan Joho pictured ahead of their trip to Dubai on July 9, 2020
TWITTER