No one ever pictures living their whole life with a disability but some Kenyans have turned their lives around by accepting their situation.
Unlike back in the day when people living with disabilities were shunned and ridiculed, society is slowly accepting them and giving them equal opportunities just like everyone else.
1. Henry Wanyoike
Henry Wanyoike, who is a blind athlete, has beaten the odds to go ahead and win in different races both locally and internationally.
Wanyoike lost his sight after suffering a stroke on May 1, 1995. He says"I WENT TO BED A NORMAL PERSON, THE FOLLOWING DAY I FOUND MYSELF IN DARKNESS."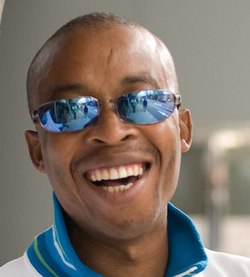 That night he lost 95% of his vision and lost the rest gradually over the next few years. He was in despair.
"I THOUGHT MY LIFE HAD COME TO AN END."
2. DJ Euphoric
Euphoric lost the ability to use his lower body after being affected by Polio, but he has made a name for himself in the entertainment industry by being among the most sought after spin masters.
Talking about his experience in the past he says
ONE DAY, WHEN I WAS 15, IN 2005, I JUST WOKE UP WITH PAIN ON MY JOINTS. AT THE HOSPITAL THEY COULDN'T FIGURE WHAT WAS WRONG WITH ME.
AT FIRST, THEY SAID IT WAS A KIND OF FEVER, BUT COULDN'T EXPLAIN WHY I HAD WOUNDS ON MY JOINTS. 
I WAS IN KENYATTA NATIONAL HOSPITAL FOR ALMOST FOUR MONTHS AND THEY TRIED EVERYTHING THEY KNEW.
Adding that
AFTER ABOUT A YEAR OF MISDIAGNOSIS, THEY EVENTUALLY DISCOVERED THAT I HAD A DEGENERATIVE JOINT DISEASE THAT COULDN'T BE CURED. 
AT THAT POINT I BEGAN PHYSIOTHERAPY AND ADJUSTING TO LIFE ON A WHEELCHAIR. IT WAS VERY TOUGH FOR ME.
3. Mary Atieno
Mary has been in the entertainment industry for more than two decades, producing uplifting gospel songs that get everyone to stamp their feet whenever her music is played.
"WHEN I WAS BORN, AT FIRST, EVERYTHING ABOUT ME SEEMED NORMAL. MY PARENTS HAD NO IDEA WHAT WOULD BEFALL ME IN THE FEW MONTHS TO COME.
IT WAS NOT UNTIL I WAS FIVE MONTHS OLD THAT THEY REALIZED I WAS BLIND.
LIKE MANY CONCERNED KENYAN PARENTS, THEY DID THEIR BEST TO ENSURE THAT I WOULD BE ABLE TO SEE AGAIN BY TAKING ME TO VARIOUS MEDICAL INSTITUTIONS, INCLUDING THE THEN FAMOUS KING GEORGE VI HOSPITAL (NOW KENYATTA NATIONAL HOSPITAL) IN VAIN."
4. Jackson Kipkemoi Kosgei
Father to gospel artist Emmy Kosgei has beaten the odds and created a name for himself as a pastor despite being physically challenged.
While some people take advantage of their physical disabilities to beg and con people Jackson is proving that we are all blessed in different ways.
Jackson lost the use of his limbs after a polio attack.
'I LOST MY LEGS TO POLIO AT FIVE YEARS AND DECREED THAT I AM LEFT AT THE EXIT OF A CATTLE PEN TO BE TRAMPLED TO DEATH BY THE BOVINES IN ACCORDANCE WITH AN AGE-OLD TRADITION OF THE TUGEN COMMUNITY.'
5. Dennitah Ghati
Migori Women Rep Ghati lost the use of her legs after being in an accident in 2014 a year after being sworn in.
Speaking about her 2014 accident in the past, Dennitah said she thought that such horrors only happen in movies.
ONE OF OUR TYRES HAD BURST. IT HAPPENED SO FAST.
BUT I REMEMBER SEEING THE DRIVER STRUGGLE AT THE STEERING WHEEL.
THE VEHICLE WAS OUT OF CONTROL AND IT KEPT HITTING ROCKS AND OTHER OBSTACLES. WE ROLLED ONCE.
IT WAS NOT LONG BEFORE PEOPLE ARRIVED AT THE SCENE AND I WAS RUSHED TO NAROK DISTRICT HOSPITAL.
I THINK I PASSED OUT BETWEEN THE ACCIDENT AND THE HOSPITAL. I WOKE UP AT THE HOSPITAL; MY LEGS THAWED AND NOT ABLE TO MOVE.
She adds
AN X-RAY DIAGNOSIS CONFIRMED I HAD BROKEN MY BACK.
THE DOCTOR TOLD ME THERE WAS A 50 PRESENt CHANCE THAT I WOULD WALK AGAIN.
I HAVE BEEN ON A WHEELCHAIR SINCE. I CAN'T USE MY LEGS TO DATE. NOTHING CAN EVER PREPARE YOU FOR SUCH A REALITY. LIFE CHANGED.
6. Westlands MP, Timothy Wanyonyi
Westlands Member of Parliament Timothy Wanyonyi has proven that when life throws you lemons you can make lemonade.
It happened one Monday evening when Tim – only two years after graduating from the Kenya School of Law and then working in the law firm of Wetang'ula and Company Advocates.
Tim was dropping a cousin friend home in Nairobi's sprawling Ngara Estate.
Robbers attacked and shot him, At that point, he felt something hit him in his back.
I FELT NOTHING AT THAT MOMENT. IT DID NOT SOUND PAINFUL AT THE TIME.
WHAT I REALISED WAS THAT I WAS NOT ABLE TO RISE UP.
IN FACT, PEOPLE WERE PASSING AROUND AND ASKING WHAT I WAS DOING THERE UNTIL ONE GOOD SAMARITAN TURNED UP AND TOOK ME TO THE AGA KHAN HOSPITAL.
He adds
IT TURNED OUT THAT THE ARMED ROBBER HAD SHOT TIM IN THE BACK AND SMASHED HIS SPINAL CORD.
A HEINOUS ACT THAT WOULD CONFINE THE YOUNG FATHER TO A WHEEL-CHAIR THE REST OF HIS LIFE.