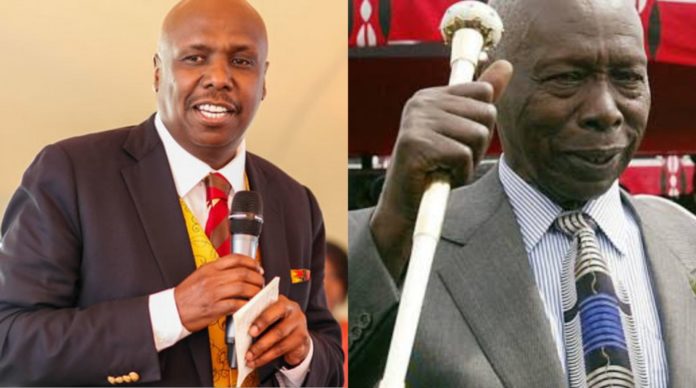 For almost ten minutes, Gideon walked following the queue filled with thousands of Kenyans as he personally thanked them, shaking hands with many as his security team shoved aside a few excited citizens.
Gideon also took time to take selfies with some of those in the queue and engaged others in short conversations.
At one point, Gideon was approached by a Kenya Africa National Union (Kanu) supporter in party-branded gear carrying a hen in a reference to KANU's famous cockerel logo.
"Thank you. Asante sana," Gideon kept telling individuals in the queue as he held his hands to his chest as a gesture of his appreciation.
Individuals in the long queue reciprocated Moi's gesture, with several shouting out their condolences and 'thank yous'.
The late president rose to power in 1978 under the independence party, Kanu, which now has Gideon as its party leader.
Gideon later welcomed Orange Democratic Movement (ODM) leader Raila Odinga who arrived at Parliament buildings to view the body at around 2:45 p.m.
Odinga paid his last respects to the departed President, hailing him as a freedom fighter who did a lot for the country.
"Mzee was a freedom fighter. He and my late father (Jaramogi Oginga Odinga) were among the first Africans to be nominated to the Legco (Legislative Council) in 1947. I have known him for a long time and he has done a lot of things for the country," Raila asserted.
Raila signed a condolence book and held a brief meeting with Gideon and his brother, Rongai MP Raymond Moi after viewing the body.
Addressing reporters, Raymond thanked Raila for coming to pay his last respects as he confirmed that the former Prime Minister would be present at the national memorial service to be held on Tuesday, February 11, at Nyayo Stadium, Nairobi.
Watch a video of Gideon approaching Kenyans in the queue below: