Former Independent Electoral and Boundaries Commission (IEBC) commissioner Roselyn Akombe, on Sunday, August 2, exposed an email she claims to have received from her former colleague Ezra Chiloba.
In a statement on Twitter, Akombe claimed that Chiloba, who served as the commission's CEO, had sent her a warning message after she expressed interest in testifying in the mysterious death of the former IEBC ICT Manager Chris Msando.
"Do not attempt to rewrite history. Our silence is not your license," read a text email from a screenshot shared by Akombe.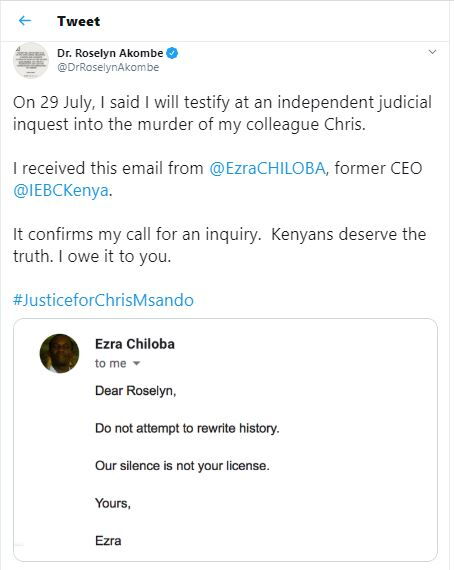 A tweet by Former IEBC Commissioner Roselyn Akombe exposing former IEBC CEO Ezra Chiloba's alleged email to her.
Citing the alleged warning, Akombe argued that it was ever more necessary for her to testify in the independent judicial inquest into the murder of Msando.
"It confirms my call for an inquiry. Kenyans deserve the truth. I owe it to you," she captioned the screenshot.
Akombe, on Wednesday, July 29, announced that she was ready to provide her testimony on the unsolved murder of her former colleague, Chris Msando.
Akombe reached out to the Law Society of Kenya (LSK) President Nelson Havi and asked that he take up the case.
"On this anniversary of my colleague Msando's murder, could you take this case up in the public's interest? As I have said in the past, I am ready to testify," she appeled.
Efforts to reach Chiloba were futile as his cell phone was off by the time of publishing this story.
The former CEO was fired from IEBC in October 2019 following a 2-year suspension from October 2017, shortly after the controversial general elections.
Chiloba, since his firing, has led a quiet life out of the limelight and has preserved his comments on what really transpired at the commission in the months leading to the 2017 general elections.
Msando, the former IEBC ICT manager was found murdered and his body dumped in a thicket in Kikuyu, Kiambu County with his wrists slit nearly a week after he went missing.
"Msando did indeed report to Central Police station on December 22, 2016, that during the month of October, some unknown persons using three cell phone numbers sent him abusive and threatening messages," Boinnet had disclosed at the time.
Six months later, on Friday, August 2, 2017, which was just 6 days to the hotly contested General Election, his widow, Eva Msando reported that he was missing.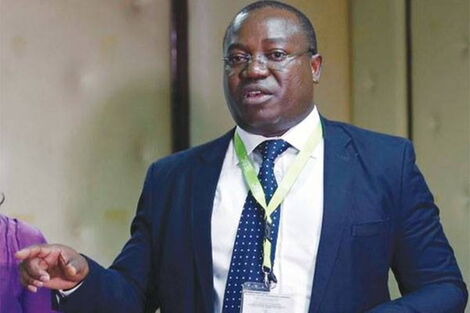 Former IEBC ICT Manager Chris Msando gestures at a press conference in 2017 before he was found dead on July 31, 2017