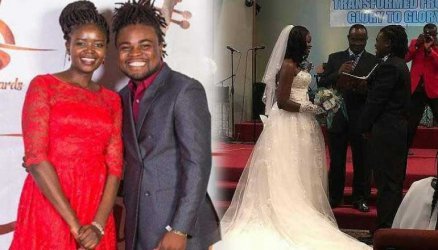 The pastor who officiated the wedding of Eunice Njeri to rapper Isaac Bukasa has come out saying that the gospel singer took off with the marriage certificate.
According to pastor Jackson King'ori of Neema Gospel Church which is based in Texas US, the document Ms. Njeri signed was issued by the County registrar and was to be returned and filed for it to become legal.
However, Ms. Njeri ran away with it a day after the wedding. According to the pastor, the document became legal immediately after the registrar signed it.
"I signed as the officiating minister, their best maid and man signed and the document became official… Njeri knows that. The decision to go their separate ways was not mutual. I'm told she disappeared the day after the wedding and she ran away with the document," the pastor told a local media house.
The abrupt divorce of the highly respected gospel singer has been turning messy with allegations and counter allegations.
A day after Ms. Njeri announced the divorce, her rapper ex-husband's sister Liz Bukasa uploaded a video that appeared to show Eunice Njeri signing the document. However, Ms. Njeri gave a quick rejoinder stating that this was not the legal document but a license that was supposed to expire after 30 days.
According to Pastor King'ori, the divorce was unforeseen as there had been no signs that Eunice Njeri would bolt away from her marriage hours after saying I do.