Digital lending applications, which have been known for their ruthless credit collection strategies, have been left counting losses after the Central Bank of Kenya (CBK) banned them from listing defaulters on the Credit Reference Bureau (CRB).
The lenders were cut from CRB in October 2020 a move that led them to a  percent decrease in the amount they were lending at exorbitant interest rates.
The regulator overruled the digital lenders' authorization to share data on CRBs that banned 337 unmonitored mobile lenders from submitting the names of loan defaulters to the bureau.
This was a setback as it negated the borrowers'  profiles to make informed decisions. They were left without a resort on defaulters leading to the reduction.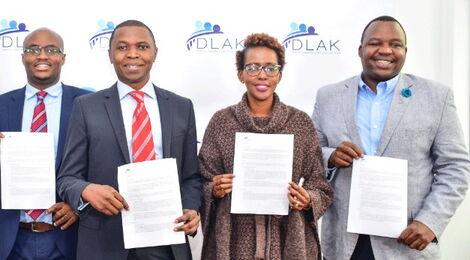 Members of Digital Lenders Association of Kenya during its launch.
The chair of the Digital Lenders Association of Kenya Kevin Mutiso said that firms decreased the amount from Ksh4 billion to Ksh2 billion.
"We were extending credit averaging Sh4  billion pre-Covid but our loans went down by more than 50 percent in 2020 due to the new government regulations put in place to regulate digital money lending after Covid-19 cases were detected in the country," said Mutiso.
DLAK is a digital lenders association comprising of Tala, Alternative Circle, Stawika Capital, Zenka Finance, MyCredit, Okolea, Lpesa, Four Kings Investment, Kuwazo Capital, and Finance Plan
According to the association, approximately six million clients borrow ksh4000 on average in a month for 30 days.
This requires a short repayment window as the amount is considerably low translating into defaults.
Research conducted by Digital Credit, Financial Literacy, and Household Indebtedness revealed that the rate at which digital borrowers default loans is twice that of conventional loanees.
"Most borrowers initially were borrowing with no intention to pay back," he added. 90 percent of the Kenyans blacklisted in the CRB on February 2 were digital borrowers. The digital lenders ceased rendering loans in March and resumed targetting the clients who repay.
CBK retained 39 banks, 14 microfinance banks, 1,353 unregulated SACCOs, 164 regulated Saccos in the CRB after locking out the digital lenders.
"We are seeing the market shifting to the banks which can still use the mechanism and are now the primary lenders in this market. Most of the digital fintechs' just stopped lending and tried to recover their capital," decried Mr. Eric Oluoch Chief Executive Officer at Quest Holdings.
According to Mutiso, they will reinstitute full lending soon as the regulations to control the sector are approved in parliament and they are back in the credit reference bureau.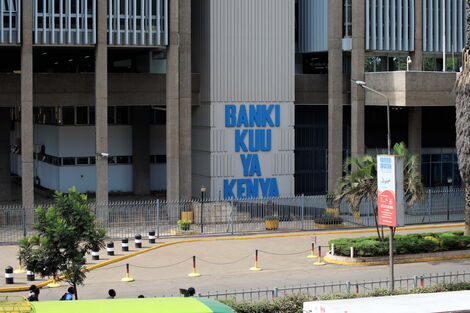 Central Bank of Kenya (CBK) building in Nairobi.