Chair of the Deputy Governors Forum Dr. Caroline Karugu, on Wednesday, August 19, revealed that the county deputies were receiving salaries despite not having any defined duties to perform in office.
Speaking during an interview, the Nyeri Deputy Governor disclosed that the deputies' salaries were costing taxpayers close to Ksh2 Billion for every five-year term while their duties remained unknown.
"Deputy Governor's are paid Ksh740,000 a month. There are 46 of them which adds up to Ksh34 million multiply that by 12 months it becomes Ksh400 million. That, in five years, is close to Ksh2 billion sinking in salaries for people who contribute nothing," she stated.
Dr. Karugu added that additional expenses for staff including cooks, drivers, and bodyguards would drive the cost even higher.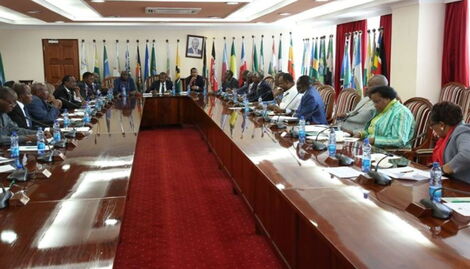 Deputy Governors' Forum held in Nairobi on March 12, 2020.
She stated that even though the office of the DG was anchored in the constitution, only one line under the constitution attempted to give their role.
"It states that deputy governor will act in the absence of governors, leaving the deputies in limbo," she added.
Karugu opined that a deputy should also be a CEC in charge of a certainly agreed ministry in the county so as to save the wage bill.
The Nyeri representative noted that they had tabled a proposal to the Building Bridges Initiative (BBI) and had even sat down with devolution experts to come up with structured work to do.
"Deputy Governors are now doing charitable activities just so that they have functions to do. A Deputy President should also be a minister or Cabinet Secretary for something," she observed.
She stated that the deputies did not want to fight their bosses but to have meaningful work to help achieve the visions for their counties.
Earlier in the year, cracks emerged between Dr. Karugu and Nyeri governor Mutahi Kahiga over signage on the construction of a pit latrine in Konyu Ward, Mathira Sub-county which bore the governor's name plastered on the top, sparking backlash from many quarters.
"I wish to disassociate from these persistent cheap publicity stunts and I consider them extremely unfortunate and ill-advised. Even the mere contemplation of such stunts is a total abuse of the intelligence of the people of Nyeri County," she wrote on her official Facebook page.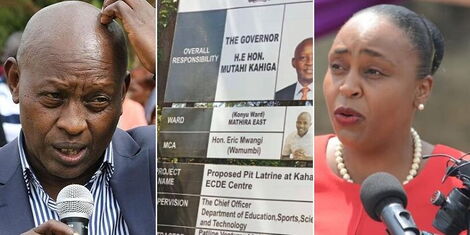 A collage photo of Nyeri Governor Mutahi Kahiga and his deputy Caroline Karugu