Health CAS Rashid Aman on Sunday, May 10, announced that 23 people had tested positive for Covid-19 in the preceding 24 hours, bringing the total confirmed cases within the country to 672.
Aman stated that 1,056 patients had been tested, adding that 2 patients from Mombasa had succumbed to Covid-19-related complications.
"Twenty cases were picked by our surveillance teams, while the other 3 are from our mandatory quarantine facilities," he revealed.
The CAS detailed the new cases per region as; 12 Mombasa, 6 Mandera, 4 Nairobi, and 1 positive case in Kajiado county.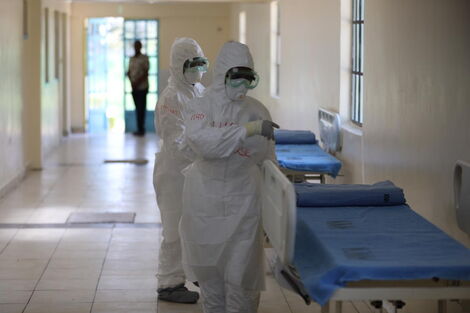 Medical practitioners in protective gear at the Coronavirus Isolation facility in Mbagathi District Hospital on Friday, March 6, 2020.
"The requirement of proper washing hands, social distancing, and staying at home must be our norm," he reiterated.
"Kenyans should embrace the measures. We as government want to put these measures so that our lives can go back to normal," he added.
Speaking at Afya House, the Health CAS announced that 32 patients had been discharged after recovering from the virus, the largest number declared in a single day since the virus broke out in Kenya in March 2020.
He further emphasized that the disease was curable and that a positive Covid-19 test result was not a death sentence.
His sentiments were echoed by  Isiolo Governor Mohamed Kuti who urged Kenyans to refrain from stigmatizing people who have tested positive for Coronavirus.
"We are all vulnerable to getting the disease," he stated.
According to the latest data, the Ministry of Health (MoH) has so far carried out 32,907 sample tests.
Speaking during the same presser, Tourism Cabinet Secretary Najib Balala, urged the Muslim community to adhere to the government directives regarding social distancing, to ensure the war on Covid-19 was won.
"My brothers and sisters in Islam, if you break the fast don't mingle or engage in common feasting as a group. We must discontinue those rituals to stop the transmission of coronavirus," he reiterated.
"This disease is real. We as Kenyans should embrace these measures of social distancing and washing of hands because they are going to save us from death or give us life," he added.