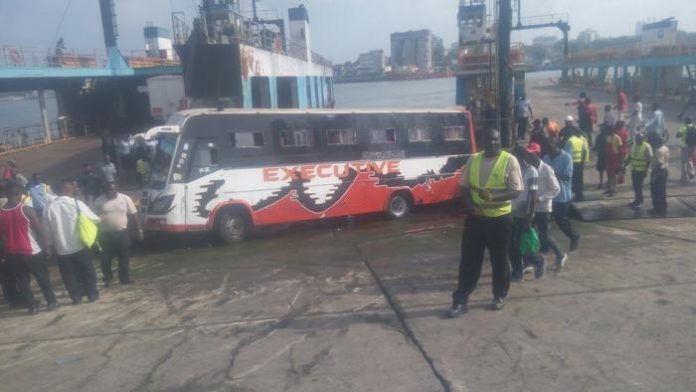 On Friday morning, February 7, a Chania Executive bus lost control and skidded off a ferry at the Likoni Channel.
The bus driver skidded into the water line while disembarking from the MV Kilindini ferry on the mainland ramp.
Kenya Ferry Services reported that the bus has since been towed to safety, adding that at the time of the incident the ferry was well secured on the ramp and no passengers were on board.
"No injuries reported. Ferry operations are back to normal," the authority stated.
In addition, the KFS reported that it was sensitizing drivers on the need to be patient and keen while using the ferries.
The authority has been on the spot since the death of Mariam Kighenda and her daughter Amanda Mutheu who drowned in the Indian Ocean.
The incident attracted the attention of Kenyans including President Uhuru Kenyatta, who fired all its board members through a gazette notice dated October 16, 2019.
In December 2019, Director of Public Prosecutions Noordin Haji, declined to board a ferry at the Likoni Channel due to its dilapidated state.
Haji, who was headed to a wedding ceremony in Golini, Kwale County, arrived at the channel and was asked to board MV Harambee but declined.
"The ferry was in a despicable state. The ramp was not properly fitted and its roof was leaking.
"I wanted to highlight the sorry state of the container, especially since it had caused an accident before and thankfully, it was withdrawn," he told Kenyans.co.ke.
Haji made a call to Transport CS James Macharia over the state of affairs at the channel, leading to the withdrawal of the vessel from operations.