Renowned actor and scriptwriter Abel Mutua was once mistakenly identified as a suspected terrorist by an army of officers from the dread Anti-Terror Police Unit (ATPU) during what he described as an unforgettable video shoot along Kiambu Road in 2019.
In a YouTube episode of Young and Stupid, Abel gave the gripping tale of a music video shoot that turned into a scary encounter with armed officers from not only the ATPU but the Directorate of Criminal Investigations (DCI) as well.
It all started out with a request from Abel's good friend Edward Omondi, also known as Dr. Eddie – a music producer. Having just signed an artist, the producer asked Abel to feature in his first song, which he agreed to.
They then settled on shooting the video for the upcoming track in Ndumberi, Limuru, as they had identified long winding roads with lush tea plantations in the background as the ideal setting.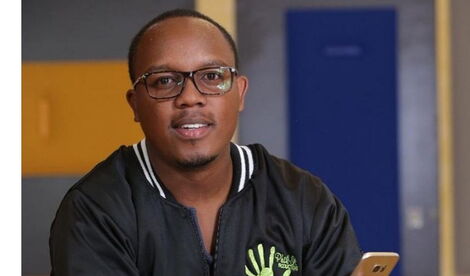 Actor and scriptwriter Abel Mutua
However, on the day slated for the shoot, they ended up running late and by 6:15 p.m. they realized that Ndumberi was no longer feasible.
"It was at this point that Eddie informed us that he knew of a place just past the DCI headquarters that had a similar setting that could also work. He even told me that he had shot several of his past videos there. True to his word, when we got there, it was perfect.
"The road was completely abandoned and the vegetation was just ideal. We went about setting up our equipment and when everything was in place, we launched our drone for the aerial shots we needed," he recounted.
As they were about to finish the shooting session, Abel who was in his car at the time noticed 2 fully armed GSU officers making their way towards them in a frenzy.
"The way they moved just spelled trouble," he narrated.
The actor quickly informed his friends of the looming danger and tried to get them to pack up hurriedly and leave but it was too late.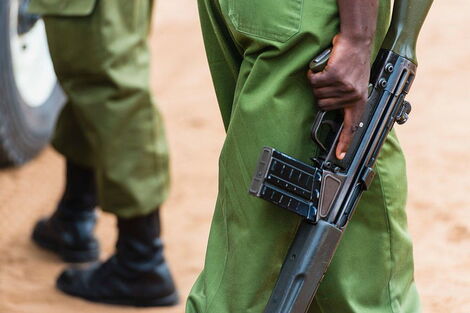 A file image of an armed police officer.
"I heard the unmistakable sound of a cocking gun, and with my Kibra upbringing, I stood dead on my tracks," he explained.
The officers ordered everyone to stand still and just moments later a group of plainclothes DCI officers emerged from the bushes.
"Do you know where you are?" One officer asked while the GSU officers informed their DCI counterpart that Abel and his crew had launched a drone in the area.
This only incensed the officers even more and moments later, a van full of armed officers from the ATPU joined them.
Abel and his crew were ordered to lie flat on the ground as the officers rummaged through their equipment in a bid to establish what the group was doing in an area that was marked as restricted, with a 'No Photography' sign mounted on one of the trees.
In his defense, the actor informed the officers that they were simply artists out on a video shoot session, adding that they hadn't noticed the sign that was hidden by the thick undergrowth.
This did not seem to satisfy the officers as a plausible explanation and one of them went on the radio and requested back up.
"A van marked Muthaiga Police Station pulled up moments later and my crew was bundled inside. I was ordered to get into my car in the company of one police officer and ordered to follow the police car to Muthaiga Police Station," he recounted.
It was while they were on the way to the station that the officer in Abel's car informed him that they had actually been shooting their video on grounds that belonged to the National Intelligence Service (NIS), an act that was right up there with the most incriminating things one can do.
He pleaded with the officer and explained the misunderstanding, but as per protocol, the group was placed in custody as the detectives carried out investigations to establish the credibility of their narrative.
Abel and his crew were released a day later and he was quick to point out that following the incident, he always triple-checks locations prior to engaging in video shoots since then.
Watch Abel's gripping tale below: