Nominated Senator Isaac Mwaura has disagreed with Government Spokesman Cyrus Oguna on the number of ICU beds the country currently possesses. 
With the government estimating that the number of Covid-19 cases could hit 10,000 by the end of April, a number of Kenyans have been concerned if the country's health care system can handle the numbers.
In a facetime interview with Citizen TV, Mwaura raised concerns about the number ICU beds in the country, "If we are to end up in a crisis like the one that has been in America, we would actually not be able to handle and why am I saying so?"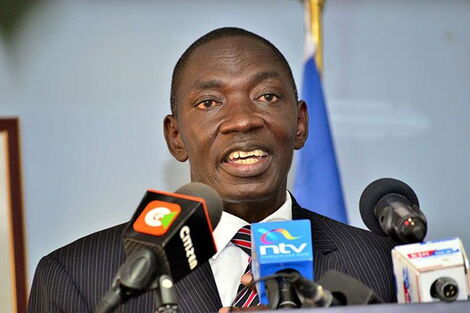 Government Spokesperson Cyrus Oguna addresses a press conference at his office in Nairobi on January 4, 2020
"Currently, we are talking about increasing the bed capacity to 1000 in terms of the ICU but the current figures as we speak is 115 and that is a combination of both the public and the private sector.
"We have about 10 in Aga Khan, another 20 at Nairobi Hospital, about 40 at KNH (Kenyatta National Hospital) and the others are spread far and in between so to increase that 10 fold is a herculean task."
According to Ministry of Health Director-General Patrick Amoth, the country has the same number of ICU beds as ventilators which stands at around 540.
High Dependency Unit beds are not supported with ventilators making them inappropriate for COVID – 19 patients who primarily suffer from respiratory distress.
Oguna who was also part of the video conference call corrected the senator on the number of ICU beds, "For corrections in terms of even ICU alone is more than what Mheshimiwa is saying, our current ICU capacity is well over 500 heading to 600 or thereabout.
"Our isolation capacity as of now, Mbagathi alone stands at about 120, Kenyatta University Teaching and Referral hospital is about 600, I have not gone to the county even the private hospitals I have not counted.
"If you look at those figures alone we are standing close to 800 beds that are ready and can take patients at any time. There are counties that have also been able to prepare isolation facilities perhaps not at the same level as the national government but they are nonetheless ready.
"So what the senator is saying may require to be looked at afresh."
Later on in the interview, Mwaura again brought up the issue of ICU beds, "The good things about this issue is that facts don't lie, we have had Cyrus Oguna talking about a capacity of 500 beds,
"Actually ICU is 115 and it's good to actually keep the facts clear so that then you know how to respond because facts don't lie."
President Uhuru Kenyatta recently announced that Ksh. 1 billion has been allocated to beef up the number of health care workers in the country.