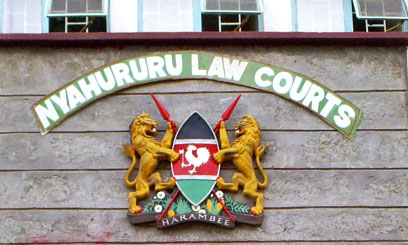 There was drama outside the Nyahururu Law Courts on Thursday after a group of residents attempted to lynch an Administration Police officer charged with multiple counts of robbery and rape.
Security guards were forced to lock the angry mob out of the courthouse as Subukia Police Station officers whisked their colleague away to save him from the public's wrath.
The mob had arrived at the courthouse early in the morning from Kabazi in Nakuru County.
They claimed police officers bungled investigations in the case against their colleague in order to shield him from prosecution.
"This police officer killed someone as he robbed him. The victim was robbed at gunpoint and we were expecting him to be charged with murder and not robbery with violence as the victim died after he was shot by the officer," said one of the residents.
He said the residents felt that the charges brought against him did not reflect the seriousness of the crimes he had committed.
Police Constable David Kimani Kuria denied two counts of robbery with violence and rape when he appeared in court on August 2, 2016.
He was released on a Sh1 million bond and was in court for the mentioning of the case when the drams ensued.
The officer had been charged that on the night of July 27, at Kabazi in Nakuru County while armed with an AK–47 rifle, and in the company of others not before court, he robbed a woman of Sh45,000 and a mobile phone worth Sh10, 000.
In the second count, the officer, who is attached to the Bahati Police Station in Nakuru County, was charged that on the same day he robbed John Wanjohi of a mobile phone worth Sh7,000.
According to a witness statement, Mr Wanjohi later succumbed to injuries he suffered during the robbery.
The officer was also charged with raping the first complainant at her Kabazi home on the same day.
An alternative count had stated that the accused person indecently touched the complainant private's part without her consent.
The court had heard that the accused, with others not before court, stormed into a couple's home and robbed them at gunpoint before raping the first complainant.
The case will be mentioned on August 22, this year.