BY THE NAIROBIAN
A Nairobi woman is being vilified by Kenyans online after videos emerged of her inserting a mudfish into her private parts. But Jecinta Adhiambo is not remorseful for the unnatural act.
She told The Nairobian that people should mind their business as she is just trying to earn a living.
In one the videos which have gone viral, Adhiambo is seen inserting a chicken drum stick in her nunu. She pulls out the drumstick, takes a bite and then turns to a fish to continue the bizarre sexual act.
When The Nairobian reached out to her, she said she wouldn't mind 'having sex with a snake or any other animal' if that is what her clients wanted to see.
She asked those criticising her to "stop meddling in my business." As for the media, she was dismissive: "stop asking me useless questions!"
The mother-of-one denied having any health or mental disorder.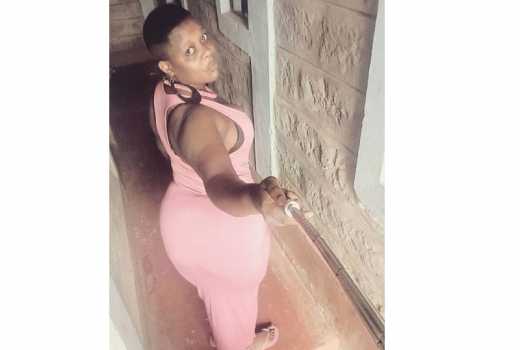 "As you people shout out there that I am mad, I continue to make money. I am very much okay and I love what I am doing. You haven't seen anything yet, wait till you see me do a serpent," she said.
The woman who told the media that she is from Busia but was brought up in Ugunja, Siaya County, said she lives with her six-year-old daughter at a place she will not disclose. Adhiambo added that she is simply meeting the demands of clients who pay her bills.
"I do what my clients demand because they are my bosses. So, when someone pays to see me do a dog and I can get one, I will do it," she said, adding that maintaining her clients means pushing the envelope a bit.
About a year ago, she claims she could easily make Sh10,000 until "a newspaper published her story and ruined her business." But she says things are looking up and her escapades can fetch anything between Sh8,000 and Sh10,000.
Adhiambo porn clips on sale
Adhiambo was thrust into the limelight a year ago when she started selling her Adhiambo porn nudes on social media for Sh200 a photo.
In an interview with The Nairobian then, she confessed to charging Sh200 for a full nude picture, Sh300 for naked clips and Sh400 for sex videos with different objects, ranging from dildos, cucumbers to carrots.
Adhiambo's rates have slightly gone up and now the crazy videos retail for Sh500 each, the photos go for Sh400 each while, a video call and sex chat will set you back Sh500.
Adhiambo who lived in Kayole last year revealed that she uses Facebook to attract clients who are mostly young boys because she "doesn't like dealing with old men."
She didn't want to talk about her private life, but had no regrets for eating and living off her nudes. "It is my body and everyone has his or hers," she argued.
Adhiambo porn clips: why she takes them
Not even social media backlash has stopped her. "I hear some of them have declared me an outcast. I don't care and I don't need them either," she told The Nairobian.
She took a swipe at women for calling her names on social media, telling them to get a life. Some women said she was a desperate attention seeker.
"They troll me on Facebook yet they also have their nunu s. I don't borrow someone's, it is mine I give to fishes and cats and will soon give it to a snake," she declared. But her clients came to her defence, saying she had the right to do as she pleased with her body.
"I once paid her and she sent me the pictures. I see nothing wrong with it. She is curvy and has a nice body," a student told The Nairobian.
Kenyans were seething with anger on social media after videos and photos of the woman pushing a mudfish inside her nunu went viral.
"The woman should be charged with bestiality… defiling an animal, there is no difference between her and those who mount donkeys," said Felix Wasonga posted on his Facebook.
Adhiambo porn clips
"I have just watched the video of Adhiambo Jecinta and what I can say is that her mind is gone," said Sally Bollo on her Facebook wall.
Zack Opondo challenged her to try fried tilapia if she claims to have the biggest of them.
"Let her try deep-fried tilapia if she is woman enough, tuone kama she won't need stitches to put her nunu back together!" he posted.