A multi-agency team has managed to track down a woman who had escaped from a quarantine facility in Kimilili, Bungoma County.
According to a report by the Daily Nation on Thursday, April 9, Brenda Naliaka Mukhwana escaped from the Kimilili Sub-County Hospital on Wednesday, forcing the police into a frenzied search.
Mukhwana had reportedly travelled to Bungoma County from Nairobi on April 1 and was quarantined at the hospital where she reported feeling unwell.
The police, however, caught up with her at her home after which she was forcefully quarantined.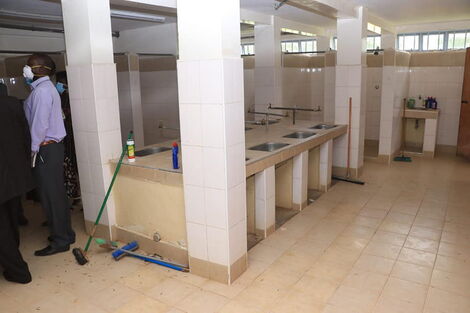 Bungoma County Officials inspecting a school to be used as an isolation centre in Bungoma on April 7, 2020.
According to a police report lodged at the Kimilili Police Station, Naliaka was quarantined after showing symptoms of the COVID-19 disease.
As of now, Bungoma County is yet to record its first positive case of the COVID-19 pandemic.
The County Government is still taking more measures to curtail the spread of the pandemic and has set aside 9 hospitals and 4 schools as isolation facilities for suspected cases.
These facilities are spread across all sub-counties in readiness for any cases that might need treatment or observation, and also in line with the directive that each county has a bed capacity of at least 1000.
The county has also launched fumigation exercises which are conducted during the night.
Far from that, the county has also begun the local production of face masks, an exercise currently being conducted at the Wekelekha Vocational Training Centre.
According to the area Governor Wycliffe Wangamati, the "Made in Bungoma" masks are a product of a licence and certification from Rivertex.
The centre reportedly has the capacity to make 10,000 reusable masks a week which will be given out for free to boda bodas, Mama Mboga (small scale traders), matatu operators as well as County Government employees.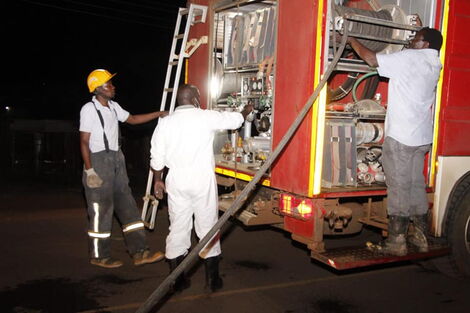 Bungoma County Government officials preparing to fumigate the town.