Two popular Nairobi churches, Christ is Alive Ministries (CITAM) Karen and Parklands Baptist on July 11, announced that they would remain closed despite an order by President Uhuru Kenyatta allowing the establishments to reopen.
In separate notices issued, the churches noted that the guidelines given would undermine the value of their services and as such it would be better if they remained closed.
Parklands Baptist stated that the 100-person limit would not be sufficient for their services as well as the suspension of in-person Sunday School services as a safeguard for children under 13 years of age.
"A significant portion of our congregants are families with young children, we are therefore concerned that the wholesome family fellowship will be affected if we reopen under the current guidelines, " the church noted.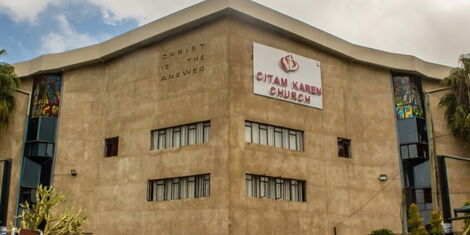 Citam Church in Karen, Nairobi
On its part, CITAM noted that consultations among the church management saw it fit to remain closed under the current guidelines.
"We wish to inform you that after due consultations among the CITAM elders and the Pastoral team, we are of the collective view that we should not reopen our assemblies immediately. All Assemblies will remain closed until further notice," a statement by the church read in part.
Both churches advised their members use the virtual platforms to follow Sunday services in the meantime as they would advise on a way forward while monitoring the situation.
Jamia Mosque also issued a circular informing the Muslim community that it would not be opening its doors soon.
NMS Director-General Mohamed Badi at Jamia Mosque on July 10, 2020.
"Jamia Mosque Nairobi, will not be opening on the 14th of July 2020 as envisioned. The guidelines to limit prayers to only 100 persons are not practical for the Mosque given its centrality in the Central Business District (CBD).
Uhuru, during an address on July 6, announced phased reopening with a number of guidelines for churches.
The Head of State stated that such regulations include a condition of only 100 congregants at any given worship session which he added should not take more than an hour each.
He said persons under the age of 13 years and those over the age of 58 as well as those with underlying health conditions shall not attend worship, also extending the suspension of Sunday schools and madrasas "until further notice."