Deputy President William Ruto flew back to the country rather quietly after visiting Dubai.
According to People Daily, the DP returned to Nairobi on Sunday midday, November 22, even as details of his trip to the oil-rich country remain under wraps.
The DP was first spotted in Dubai on Friday, November 20, where he held a meeting with former Nigeria Vice President Atiku Abubakar.
His close confidants have, however, remained tight-lipped over the nature of his trip even after he posted photos of himself with a Nigerian tycoon.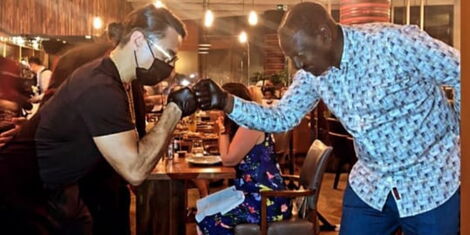 Turkish chef Nusret Gökçe alias Salt Bae and Deputy President William Ruto fist-bumping on Saturday, November 21 in Dubai.
DP's Deputy Spokesperson Emmanuel Talam remained coy on the matter, stating that he was not aware of Ruto's endeavors in Dubai.
"I am on leave, so I don't know much about the trip, call Mugonyi for any information," stated Talam.
Attempts to reach out to the DP's Spokesperson David Mugonyi were, however, futile as calls went unanswered.
While in Dubai, the DP appeared to be having a blast especially after visiting the high-end restaurant of chef Nusret Gökçe, alias Salt Bae for a taste of the exotic steak.
The chef made quite some noise after posting a photo of the two together and addressing the DP as President William Ruto.
In a video that the DP later shared, he is seen trying to sprinkle salt on the stake in the exotic fashion that Nusret has come to be known and loved for.
Ruto was photographed alongside Nigerian tycoon and political activist Timi Frank who is said to have a vast interest in African politics.
In a clip, Frank revealed that he was trying to mobilize Kenyan youth to actively engage in politics in order to change governments across Africa.
"My prayer and dream is to see how the youth of Africa can come together, the youth of Africa must get involved in politics. We must not sit down and criticize, we must come to the field.
"This is my campaign to every youth in Kenya, they must get involved in politics, the only way we can make things work is our involvement. We must not sit down and complain, we must participate," he noted during his August trip to Kenya.
Ruto is also known of capitalizing on the youth movement in advancing his political agenda.
Below is a video of Ruto in Dubai: