George Maina alias Njoro the comedian, on Monday evening, July 20, narrated how he has been trying to take his own life following a long battle with depression.
Speaking to Zainabu Zeddy, the Churchill Show comedian was full of gratitude for her visit, stating that she was the only colleague who had paid him a visit ever since he moved back to his parents' home in Nakuru.
"You know, when you lose everything, you also end up losing the people you used to call your friends. I have tried to take my own life three times but by some miracle, I failed in all my attempts. It must be God's plan but truth be told, I am not well at all," he confessed.
The comedian went on to narrate his personal battles including how he hit rock bottom after losing everything. His turbulent period was compounded by the fact that his father was diagnosed with stomach cancer, which pushed him over the edge.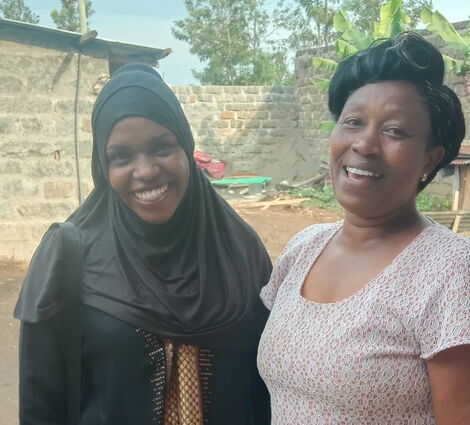 Comedian Zeddy (Left) and Njoro the comedian's mum pictured in Nakuru on July 20, 2020.
In October, November, and December 2019, Njoro revealed that his mental state was so bad that he tried to drive his car off a cliff at the rift valley viewpoint area.
However, by some divine intervention, a truck driver who happened to be passing by noticed the comedian praying inside his car which was parked on the very edge of the steep cliff.
Uknown to Njoro, the truck driver attached a towing belt to Njoro's under-carriage and linked it to his truck.
"After I was done with my final prayer, I stepped on the gas but the car didn't move an inch," he narrated.
His other two attempts involved ingesting rat poison and slitting his wrists.
Njoro's mother had been keeping Zeddy updated on his condition and at some point, she went as far as telling the Churchill comedian that she was watching her own son move closer and closer to the grave with each passing day.
Njoro went on to appeal to his fans, friends, and any well-wishers to help him access a therapist to help him find his way back.
He further revealed that he was ready and willing to take up any job as he was currently unable to feed or shelter himself.
Moments after his confession, the comedian took to his Instagram page to thank Zeddy, "thanks for the visit. I cannot pay you but God will." he posted.
Watch Njoro's story below: