President Uhuru Kenyatta has announced the creation of 26,000 new jobs to cushion the youth and the vulnerable against the effect of the Covid-19 pandemic.
In his address to the nation on Saturday, April 25, President Kenyatta announced the creation of the National Hygiene Program, aimed at guaranteeing the youth employment and also taking care of the environment in the same beat.
"This initiative that will commence on April 29, 2020, is an initiative that we will call a National Hygiene Program. I believe that this initiative will create jobs and make our environment healthier at the same time," President Kenyatta stated.
He announced that in the next thirty days, the first phase of the program will be launched and will cater to 26,148 youth with a target of over 100,000 as more phases are launched over time.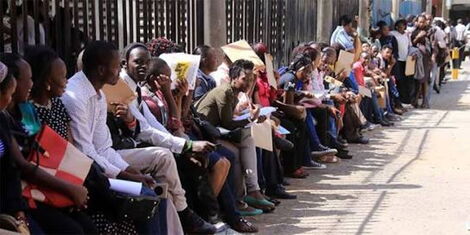 Job seekers in Kenya
FACEBOOK
President Kenyatta expressed optimism that with time, the government will be able to cater for a huge margin of Kenyans that was subsisting below the poverty line.
"This initiative added to the already existing 108,000 vulnerable households that are presently receiving direct cash grants, and the Ksh8 billion that the senior citizen's program and the vulnerable families are getting, will continue to offer tangible relief to our families," he stated.
President Kenyatta informed that the inaugural National Hygiene Program would target residents in 23 informal settlements in seven of the counties most affected by the pandemic.
"To demonstrate the principles of this approach, the making of facemasks will be undertaken by 4,048 tailors residing in these settlements and their neighbourhoods. They will make at least 250,000 masks per day," the president stated.
He also announced that measures were being put in place to ensure that those being employed would work under proper standards and protocols to reduce the rate of infection.
He further announced that the government had considered a number of measures to be effected once the country is declared free of the pandemic to ensure that the economy continues to grow.
"My administration shall, in particular, activate Medium, Small and Micro Enterprises (MSMEs) to manufacture basic equipment and supplies for domestic use and for exports.
"This initiative shall be housed under the Universal healthcare (UHC) agenda and will utilize about Ksh1.5 billion," he stated.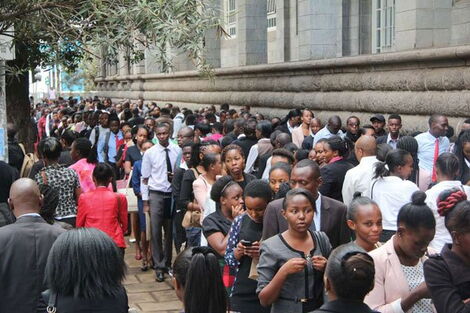 Jobseekers queuing on Wabera Street, Nairobi, waiting to be interviewed by The Sarova Stanley on May 26, 2018.
DAILY NATION