Nurses at the Kenyatta National Hospital (KNH) Infectious Disease Unit (IDU) got a chance to stretch their bodies in a one-of-a-kind dance class.
The Zumba session which was held at Mbagathi Isolation Centre was aimed at improving the fitness of the health professionals working tirelessly to care for patients.
The event was organised by the Nursing Council of Kenya (NCK) in partnership with Digital Humanitarian organisation for nurses, midwives and other frontline workers at the Isolation facility in a bid to create awareness on their mental health and fitness.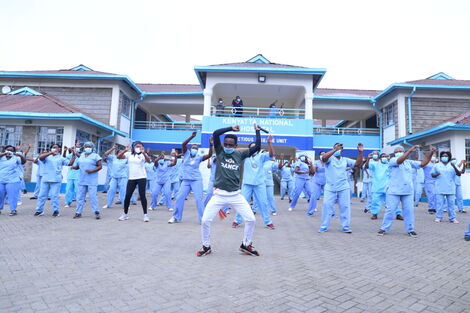 A dance instructor takes the health workers at Mbagathi isolation centre through a dance routine on May 28, 2020.
Speaking, the organisation's founder, Philip Ogola stated that the exercise was a way of getting the frontline workers to have an avenue to vent out their frustration.
"No one thinks of what the frontline workers are going through. Most of them suffer from emotional trauma because they are working long shifts up to 15 hours without rest.
"Most of them have no time to socialise due to the nature of their job. They are also stigmatised when they get home and as such suffer in silence," Ogola explained.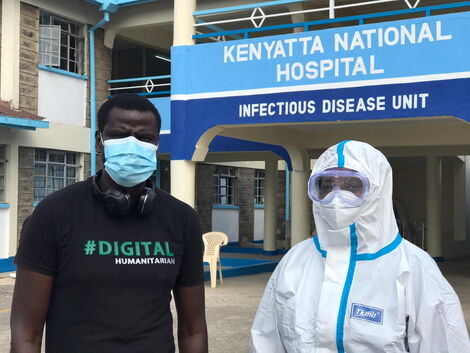 Digital Humanitarian founder Philip Ogola with a front line health worker at Mbagathi isolation centre on May 28, 2020.
Ogola, who's part of the Ministry of Health's Covid-19 digital communications team, stated that the Zumba class was a way of showing appreciation to the nurses.
Over 200 workers joined in the day's activity which also included a session where the health care professionals shared their personal stories while working in the isolation facility.
"We are planning to hold another one in Mathare and all the Covid-19 isolation facilities counties and eventually all the hospitals," he disclosed.
Zumba is a popular and trendy workout across the globe as it a full-body workout – and it's fun.
Many people prefer it as an alternative to traditional fitness programmes because it is a powerful exercise for weight loss in addition to improving cardiovascular fitness.
It is also a stress reliever and improves coordination as the arms and legs are generally moving in different directions.
Frontline workers exercising at Mbagathi Isolation facility on May 28, 2020.