NTV sports journalist Idah Waringa on Sunday, July 5, showcased an investigative feature on how Kenyan football has been marred with the cancer of match-fixing.
The detailed feature exposed several alleged key players in the intricate web that includes football players, referees and 'money men' from as far away as Singapore.
Kakamega Homeboyz Football Club chairman Cleophas Shimanyula opened up to Waringa on how his players were consciously 'throwing' matches after getting paid.
"My defenders were scoring own goals, it happened about thrice and this caught my attention as it did not make any sense. I carried out my own investigations and found that the defenders, as well as the coach, were being paid to ensure matches ended in a scripted way," he explained.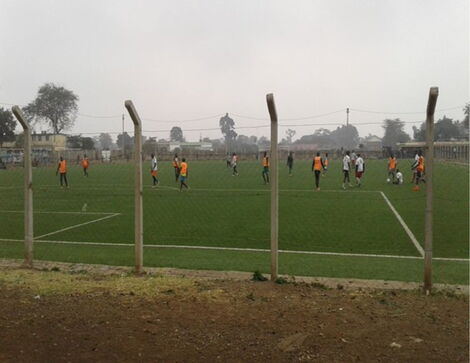 Footballers pictured at the Camp Toyoyo grounds.
Shimanyula immediately turned into a whistleblower, leading to a 4-year ban imposed by world football governing body FIFA on 3 of his players, Moses Chikati, Festus Okiring and Festo Omukoto. The 4th player, George Mandela, a Ugandan national was handed a life ban.
Aside from approaching footballers, the cartels behind the racket that has tainted Kenya's football scene also target journalists.
Steven Heywood, the media liaison for Bandari FC, revealed that he had been approached on several occasions to delay updating the live scores online to enable the shady match-fixers to hurriedly place their bets on which team would score next.
He went on to explain that this happened exclusively during away matches being played in remotes part of the country such as Chemilil where information on the match was apparently limited to the people in the actual pitch.
Referees were also highlighted in the feature and highlighted as prime targets for match-fixers. For example, on September 16, 2012, Chemilil Sugar squared off against Oserian FC at the Chemilil Sports Complex, with the visitors battling against relegation.
A sworn affidavit showed that an unnamed technical director paid one of the referees Ksh10,000 and termed it as 'lunch' money in a bid to influence the outcome of the match. However, the centre referee was not in the loop and the match ended in a draw, leading to a major altercation between the bribed official and the technical director who wanted his money back.
A sworn affidavit detailing how an official was paid to influence a football match in September 2012.
Various club coaches interviewed during the feature castigated the match-fixers and the negative effects of the vice on Kenyan football.
However, they also pointed out that the meagre pay handed to football players and officials made them susceptible to accepting bribes to throw matches, reiterating that major investment in the sport was needed in order to eliminate the tumour festering in the industry.
Watch Idah Waringa's investigative feature on match-fixing in Kenya below: