Two Kenyan pilots and an engineer are pleading with the Kenyan government for help, claiming that they have been abandoned in the Democratic Republic of Congo for over six months by their employer.
The three, Captain Isaac Newton Wafula Ouma, First Officer Cornelius Ndeche Oluoch, and Engineer Simon Peter Kuruga, are said to be held in a hotel in Congo.
The trio's predicament is said to have started when their contract ended in March 2020 and was allegedly abandoned by the aviation company.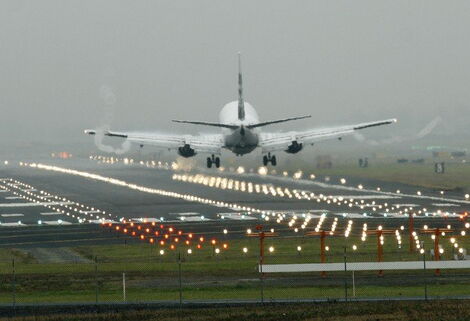 A plane pictured on its final approach.
"They were deployed to DRC in October 2019, to work as Echo flights Crew on behalf of a local airline.
"However, the contract ended on March 20, and the airline has abandoned them ever since and attempts to return home have proved futile," Chairman of the Law Students Society of Kenya (LSSK), Brian Migwi stated.
In addition, Migwi stated that the company had not paid salaries to the trio since February 2020, leading to accrued hotel bills.
"They survive on well-wishers' handouts," reads a statement by LSSK.
Migwi indicated that they had since written a letter to the Ministry of Foreign Affairs and the Kenyan Ambassador to DRC but were yet to get a response.
"My plea to the government is to expedite the evacuation of the 3 Kenyans stranded in Congo. Their families have suffered a great deal without their family members," he requested.
This is despite President Uhuru Kenyatta lifting the ban on international flights, in and out of Kenya on August 1, under tight Covid-19 rules.
African countries exempt from the 14-day mandatory quarantine include; Tanzania, Botswana, Burundi, Cameroon, Djibouti, Egypt, Eritrea, Gambia, Ghana, Ivory Coast, Lesotho, Liberia, Libya, Madagascar, Malawi, Morocco, Mozambique, Namibia, Nigeria, New Guinea, Rwanda, Senegal, Sierra Leone, South Africa, South Sudan, Tunisia, Uganda, and Zambia.
President Uhuru Kenyatta addresses the country concerning the coronavirus outbreak, at State House, Nairobi, on March 25, 2020.