A political showdown is looming after Ruth Adhiambo Odinga, the younger sister of Orange Democratic Movement (ODM) leader Raila Odinga announced her intention to run for the Kisumu gubernatorial seat in the 2022 general election.
Ruth declared her interest in the position currently held by Governor Anyang' Nyong'o during an interview with a local radio station on Thursday, February 18.
The younger Odinga, who previously served as Kisumu Deputy Governor between 2013 and 2017, said she believes she has the potential to transform the lakeside city in a way that will benefit all the residents.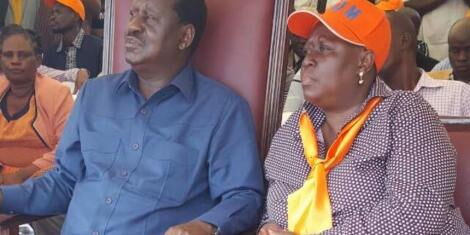 Ruth Odinga and ODM's leader Raila Odinga at a past function
The former DG also requested voters to not treat her because of her political class, but to vote based on her manifesto and qualifications just like any other political aspirant would be voted for.
The move complicates the Kisumu gubernatorial race, coming a few months after Raila endorsed Nyong'o for a second term saying he had done a great job since his election in 2017.
"Hasn't Nyong'o done a great job? Are you happy? He deserves five more years," the former Prime Minister told Kisumu residents in August last year.
The ODM Leader's sister has asked her rivals not to involve her family in the race.
"Yes, I am Oginga Odinga's daughter and sister to Raila, but I am vying on my own merit," she added.
She added that politics was ingrained in her blood and she has the assurance of her supporters.
The first governor, Jackson Ranguma, fell out with Ruth and opted for a new running mate in the 2017 re-election.
He was ousted by Peter Nyong'o, who enjoyed the support of the younger Odinga, in a political showdown that even saw Ranguma threatening to swear himself in a parallel ceremony.
He was expressing disappointment after the court upheld Nyong'o's win as the county boss in 2017. After the professor was declared winner, he left out Ruth's name when naming the team that would work with him.
Nyong'o has not openly declared his move in the next general election set to be held in August 2022, but is widely expected to seek a second term.
Kisumu Governor Prof. Anyang Nyong'o.
FILE