Nairobi residents have sounded an alarm over a surge in cases of muggings and theft along various busy roads, with joggers particularly targeted.
Many residents who enjoy running or jogging on routes including Oloitoktok Road, Westlands Road, Mbagathi Way, Lang'ata Road and Waiyaki Way among other routes have come face to face with the thugs in recent months.
Oloitoktok Road, in particular, has been cited as a hub for muggings of joggers who regularly use the route. While some joggers prefer evening runs, many of the cases reported along the route took place in the morning.
Nairobi police boss Rashid Yakub was yet to respond to queries from by the time of publication on whether law enforcement agencies were aware of the surge and what was being done about it. The situation has left Nairobians particularly worried as some residents reported that the thugs were armed.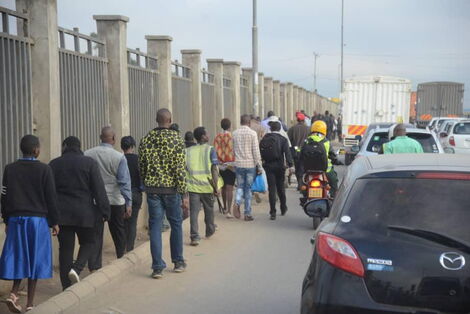 Kenyans walking in Nairobi on Monday, March 23, 2020
Aside from joggers who have had phones, cash and other items stolen during their runs, other residents have also suffered at the hands of the merciless criminals.
"Others (thugs on Oloitoktok road) were chased and arrested on Sunday (August 16) as they tried to hide in a particular compound," revealed Joanne Kiarie in an online conversation on the issue.
"Two thugs were shot on Saturday (August 15) near the Methodist roundabout while trying to mug two kids of their bikes. Another two got away. They had guns. Oloitoktok [Road] is not safe to walk or run," recounted Naisenya Kimani.
"I have encountered a few dodgy individuals (on Oloitoktok Road) that had my antenna flaring," wrote one Njui.
Regular joggers and runners stated that they had been forced to abandon the Oloitoktok Road route after a surge in the worrying cases.
Indeed, safe spaces for joggers in the city are shrinking with evidence of insecurity along with several of the most popular routes.
Kama*, a resident of Nyayo Highrise Estate who regularly jogs along Mbagathi Way, told that while had never been mugged, he was aware of several such cases.
"It is very common on Mbagathi Way especially in the morning for those who jog towards T-Mall or Kenyatta National Hospital on the other side. A lot of joggers enjoy listening to music while running so they carry their phones and joggers are aware of this.
"It is also hard to get them because they usually strike in the morning sometimes before 6 or 6.30 a.m when there aren't many people around, just some walking to work and others in their cars. I know of a friend who was mugged on Lang'ata Road opposite Wilson Airport and literally no one noticed," he stated.
It is important to take various precautionary measures when jogging alone or running on roads in Nairobi, particularly those known to harbor, dangerous criminals.
When running at night, for instance, avoid running while wearing headphones or earphones as they could distract you from being aware of your immediate surroundings. Also, ensure that you run in well-lit areas.
During the day, one is also advised to ditch earphones entirely or use a single one to remain aware of what is happening. Also, remember to leave your phone and other valuables at home.
One is also advised to run in populated areas. Avoid paths where you can run for a long time without spotting anyone else.
If you are running in a new area you are not familiar with, it is advisable to ask neighbors or local police about the ideal running trails.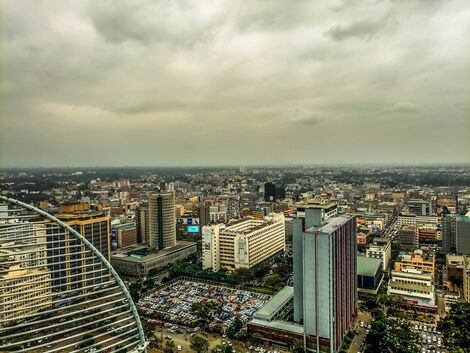 An aerial photo of Nairobi