Mystery has surrounded the death of a police officer stationed at Equity Bank in Makutano, Meru after collapsing in a toilet on Tuesday, July 21.
The incident happened at around 12 noon with an ambulance called to transfer the body from the branch to a morgue by healthcare workers donning Personal Protective Equipment (PPE).
Speaking, Meru police commander Patrick Lumumba detailed the events that surrounded the death of the police officer.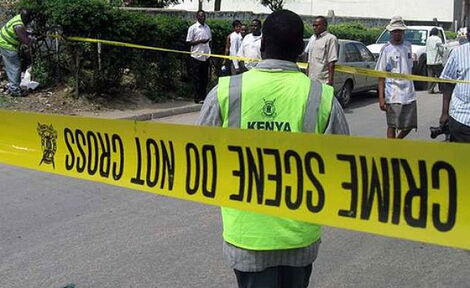 A Kenyan Police Officer at a crime scene
"The officer was just okay like any other normal person, he was deployed as usual to Equity Bank in Makutano, Meru, he did not have any complications.
"Unfortunately when he went to the washroom he failed to return so colleagues started looking for him, they found that he had collapsed," he explained.
When contacted, Equity Bank could neither confirm nor deny the reports noting that official communication would be released soon.
A number of social media reports indicated that the officer had developed breathing complications leading him to collapse to his death.
Lumumba, however, cleared the air revealing that the officer was in good health and did not have any complications as rumored.
The Meru police commander, however, urged the public to steer away from speculations as they await a report from a post-modern that is being conducted.
Rumors that the branch had also been shut were allayed by Lumumba who noted that the operations at the branch continued.
The body of the police officer was transferred to Meru Level 5 mortuary.