Steve Mululu, a native of Western Kenya, has a story unlike any other. Despite not having gone through any formal education, he is currently living his dream having successfully built a Chain of Health and fitness businesses in Johannesburg, South Africa.
Speaking during a recent interview, the entrepreneur recounted meaningful events that led him to his dream.
Coming from a family of 60 siblings, it was clear from the get go that Mululu would need to find a way to stand out if he was to live his mark during his tenure on earth.
"My father had 4 wives all of whom had 15 kids. It seems like the only Bible verse he read was 'go forth and multiply', "he revealed amid a hearty chuckle.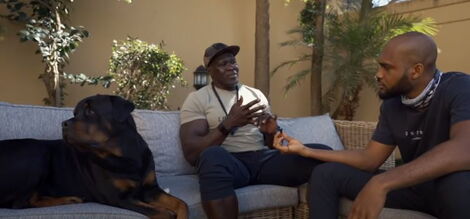 Steve Mululu speaking to Tayo Aina during an interview on August 11, 2020.
He then moved to the capital, Nairobi, while he was still only 17.
However, he had one huge handicap. He was yet to receive any form of formal education.
His only strength was his raw energy which he had been unknowingly enriching while tending to his father's farm.
Consequently he found himself living and moving from slum to slum trying to find his purpose.
He soon found a gig at a National Cereals and Produce Board warehouse in Industrial Area where he was tasked with sealing, stacking and moving cartons. He quit on the first day
"I noticed that my colleagues were all walking with a visible hunch and limp. I pulled one of them to the side and made some small talk in a bid to know more about the job. One of them told me he had been working at the warehouse for 40 years. I quit there and then," he recounted.
He went on to explain that settling for a life similar if not worse compared to the one he had left upcountry was unacceptable to him.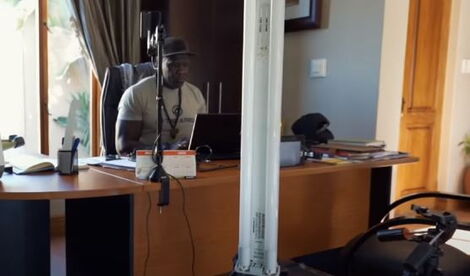 Steve Mululu pictured at his office in South Africa.
It was at this point that he had an epiphany. He decided to focus on his strength which brute force and raw energy.
Boxing was the obvious choice and he was soon a regular presence at several gyms where he not only trained, but watched and learned.
Soon enough he was training clients of his own, one of whom pointed out the possible opportunities that lay in South Africa in the 90s.
That was how Mululu ended up using all he had managed to rake up and with some help from relatives, relocated to South Africa.
The burly entrepreneur first started out as a personal trainer at a gym in Johannesburg, where he kept on working on himself both mentally and physically.
He used to and still wakes up every morning to study for 2 hours, a routine he repeats every night as well.
Within five years of his arrival in South Africa, he was working as a fully qualified professional trainer to wealthy patrons.
However, he yearned for was a gym of his own in which he could implement his own ideas of a holistic approach to fitness.
Despite being discouraged by his patrons at the gym, the landlord of the site he had in mind demanding three months' rental upfront, and overseas suppliers of training equipment wanting 50% payment upfront with the rest on delivery, Mululu's will was unshaken.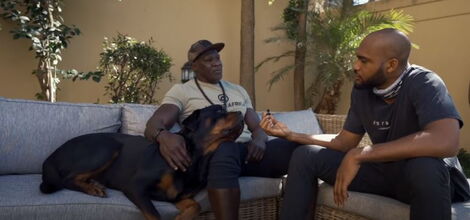 Steve Mululu speaking to Tayo Aina during an interview on August 11, 2020.
He relentlessly emailed the biggest supplier of gym equipment in North America, enthusiastically describing the opportunities in the South African market. Six weeks later, he finally got a response from the company's Europe sales manager, telling him that he was visiting Johannesburg soon.
Mululu took him to his ideal site in Sunninghill and and introduced the sales manager to the landlord as his "business partner", which impressed so much that he was offered him a lease.
His go-getter attitude also so him sign up 100 paying clients even before his first gym opened its doors.
He was still left flat broke and was on the verge of declaring bankruptcy and closing up shop before he decided to approach a local venture capital firm.
A man of faith, Mululu revealed that it was the Grace of God that convinced the firm to take a chance on him.
He was granted a Ksh5 million loan, and the rest as they say, is history.
Within 4 years he was raking in profits and soon expanded by setting up 2 new wellness centres.
At the start, he was doing everything from cleaning, training and sales. However he now has a staff of at least 50.
"We need to invest more on positive self-empowerment programs. I think our biggest shortcoming as Africans is not lack of opportunities, we just don't believe in ourselves. We always come into any situation from a position of underprivileged 'I'm not good enough'. Unfortunately, your world is a mirror of your thoughts," he remarked when asked to share his thoughts in Africa.