An audit report on the Ksh51 billion donation sent to Kenya by the European Union (EU) between 2014-2020 has revealed glaring errors.
The report titled Special Report: EU Development  Aid to Kenya 2020, conducted by the European Court of Auditors raised several questions as to how the aid was spent.
Juhan Parts, the former prime minister of Estonia who published the report, criticized the standardized approach taken across multiple countries.
"Spreading Kenya's funding over so many areas increases the risk of it not reaching the necessary critical mass in any single sector to achieve significant results," the report reads in part.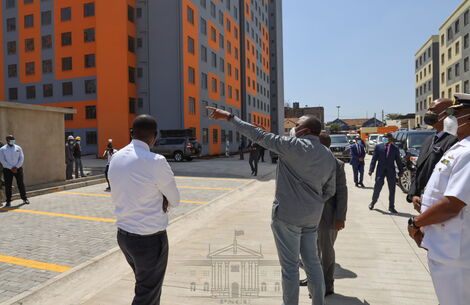 President Uhuru Kenyatta tours Nairobi Metropolitan housing projects in Nairobi's on Tuesday, June 30, 2020
He further revealed that 90% of the EU funding was allocated using a standard formula for African, Caribbean, and Pacific countries, which could not address their specific development obstacles or the funding gap.
The report further questioned the EU's decision to focus heavily on the agricultural sector, while almost entirely neglecting the manufacturing industry.
"The agriculture sector is not the source of job creation in the numbers which Kenya needs. If job creation is a kind of medicine for reducing poverty, then for sure if we are investing in agriculture then in the longer term or middle term, for sure there will be fewer jobs.
"At the same time, talking about manufacturing, there are a lot of opportunities to create more value on this production chain in Kenya and that would be easily part of the manufacturing activity and creating jobs, doing something with these agricultural products," reads an excerpt from the report.
Felix Fernandez-Shaw, Director at the Commission's Development Department, stated that it was a matter of political choices made in consultation with the Kenyan government about which sectors were the best vectors for economic growth.
In the end, the audit recommended the adoption of customized aid plans to address specific needs while focusing on a few sectors and ensuring completion.
The EU maintained that the employment of a standardized system when it came to aid was as a result of consultations with relevant authorities in Kenya.
"The Member States reviewed the final assessment and considered it appropriate, as no further adjustment was proposed," reads a section of the EU's statement in response to the damning audit.
It maintained that it was looking to expand investments in support of President Uhuru Kenyatta's Big Four agenda; deepening dialogue and cooperation on issues of common interest, such as sustainable, job-creating development, countering terrorism or addressing climate change; and allying on peace and security in the wider region and on multilateral agendas.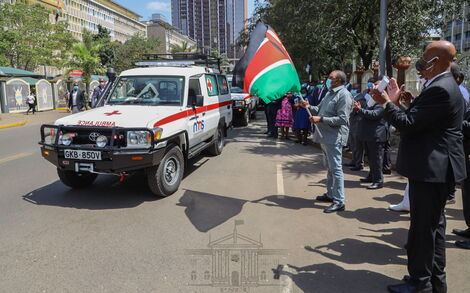 President Uhuru Kenyatta flags of Nairobi Metropolitan Services's ambulances in Nairobi's on Tuesday, June 30, 2020