The Director of Public Prosecutions (DPP) Noordin Haji on Monday, April 6, disclosed that embattled Kilifi Deputy Governor Gideon Saburi, could be charged with murder.
Speaking, Haji revealed that Saburi could find himself staring at the grave charge under a certain set of parameters.
"If a person dies from the interaction, that is definitely a murder charge," he stated.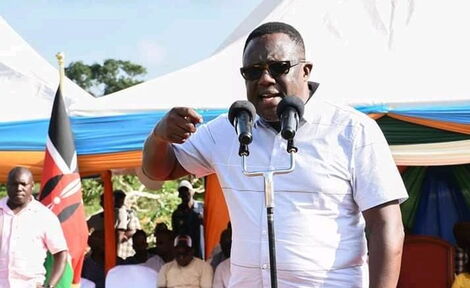 Kilifi Deputy Governor Gideon Saburi giving an address in Ganda Ward, Kilifi.
Saburi was arrested on Friday, April 3, by 8 officers from the  Directorate of Criminal Investigations (DCI) based in Mombasa and placed under forced quarantine for his failure to isolate himself upon rival from Germany on March 7, 2020.
"What he did is a serious thing. We are are not getting him off," DPP Haji told this writer while explaining that if any of Saburi's contacts died of Covid-19, it was possible for his office to institute murder or attempted murder charged against the defiant deputy governor.
Chapter 242 of the Public Health Act prescribes a maximum fine of Ksh30,000 and imprisonment of a period less than three years for anyone found guilty of spreading an infectious disease.
"Any person who while suffering from any infectious disease, willfully exposes himself without proper precautions against spreading the said disease in any street, public place, shop, inn or public conveyance, or enters any public conveyance without previously notifying the owner, conductor or driver thereof that he is so suffering, shall be guilty of an offense and liable to a fine not exceeding Ksh30,000 or to imprisonment for a term not exceeding three years or to both," an excerpt from the Act reads.
It was argued that his decision exposed several people who came into contact with him to Coronavirus including several county staff.
The deputy governor was later arraigned before Mombasa Chief Magistrate Edna Nyaloti on Monday, April 6, who went on to direct that Saburi is held at the Bandari Police Station until Thursday, April 9, when a ruling on his bail will be delivered.
During the arraignment, DPP Haji's office had sought to have suspect detained at the Manyani Maximum Prison, pending the completion of investigations.
The prosecution argued that Kilifi residents were infuriated by Saburi's actions, adding that he risked being subjected to mob justice if released.
DPP Haji's office also told the court that there was no assurance that the deputy governor would follow the new directive to self-quarantine for 14-days following his full recovery from Covid-19 on April 2, as he had already defied the initial order when he arrived from Germany.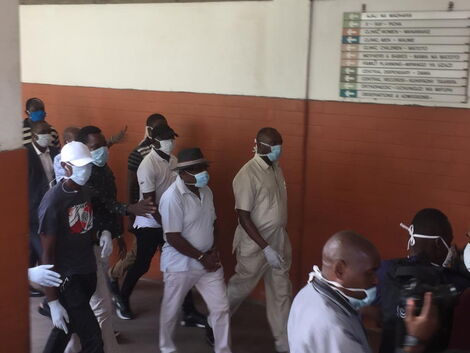 Kilifi Deputy Governor Gideon Saburi being arrested at the Coast General Hospital on Friday, April 4.
On his part, Saburi (through his lawyer) argued that detaining him for 2 weeks at the maximum-security prison would be a breach of the laws that govern the state as he was yet to be charged.
In his rebuttal, the embattled deputy governor also refuted claims that he had been directed to self-quarantine upon his arrival from Germany, adding that there was no evidence to substantiate the same, and thus it could not be used in a court of law.
Upon the announcement of Saburi's recovery from the deadly virus, Health Cabinet Secretary Mutahi Kagwe, stated that he would be charged by the state for failing to self-quarantine when he arrived in the country.
"I am also pleased that the DG of whom we placed under forceful quarantine has fully recovered and declared fit after being subjected to three tests, all of which have turned negative. Naturally, the issue of law will follow up with him," CS Kagwe stated during his April 2, presser.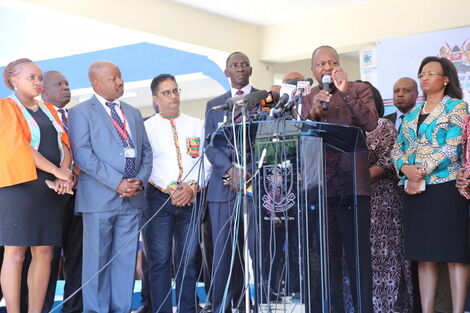 Ministry of Health Cabinet Secretary Mutahi Kagwe addresses the media from the Mbagathi District Hospital on Friday, March 6, 2020