President Uhuru Kenyatta has revealed that two Kenyans have been cured of Coronavirus.
Speaking to the two, identified only as Brian and Brenda, in a videoconference, the president noted that they had fought the disease bravely and took upon themselves to contain its spread.
"Brenda we have been referring to you as patient one.
"You are special because immediately after arrival, without being coerced, forced or pushed, you took it upon yourself realizing that you potentially were at risk to Kenyatta Hospital. We are proud of you,"  he stated.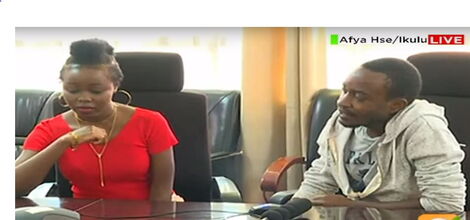 Survivors of Covid-19 pandemic Brenda (left) and Brian who got cured of the disease speak to President Uhuru Kenyatta at Afya House on Wednesday, April 1, 2020.
"We are very proud of you Brenda because through that, we were able to conduct the test, you were able to inform us in a very calm manner all the people you were in contact with. That is how we were able to get hold of Brian," Uhuru continued.
Speaking to the president, Brenda recounted that she had visited the US in December 2019 before moving to London where she thinks she may have contracted the virus.
"As a patriotic Kenya, I decided to watch the response of my body and I presented myself the next day. I would like to thank the staff at Mbagathi because  they took it seriously
"For the last 23 days, have been receiving treatment. They gave me the mask immediately I arrived," she noted while urging Kenyans to come forward.
Brian, who was infected by Brenda, thanked the state for tracking her contacts down and testing them for a possible interaction with the first patient.
Uhuru urged other Kenyans to emulate Brenda and present themselves for testing noting that she had proved that the disease is curable.
During the conference call, the president also apologized for excessive force police unleashed on Kenyans at the start of Covid-19 curfew and urged everyone to cooperate.
"I know, especially when we introduced the curfew, maybe in the initial stages there were challenges and I want to apologize to all Kenyans maybe for some excesses that happened," he stated.
He also thanked all the medical staff who put their lives on the line in helping to battle the disease.
59 people have tested positive of the virus since it broke out in Kenya. One person lost his life.