Health Chief Administrative Secretary (CAS) Rashid Aman delivered the daily briefing on the Covid-19 pandemic at Afya House in Nairobi on Monday, July 20.
418 cases were confirmed in the last 24 hours bringing total cases recorded so far to 13,771. The new cases were discovered after 2,474 samples were tested. 246,361 tests have so far been done since March.
Of the new cases, 408 are Kenyans while 10 are foreigners. 263 are male while 155 are female.
Ages of the new cases range from a one-year-old infant to an 86-year-old.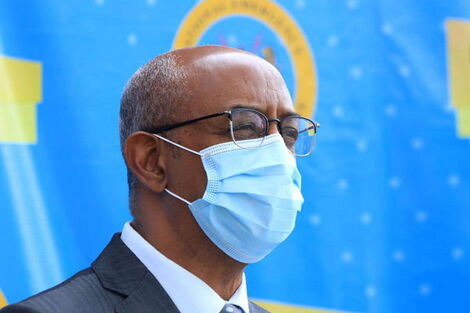 Health CAS Rashid Aman addressing the media at a press briefing. May 13, 2020.
495 recoveries were also recorded in the same period, with 465 leaving home-based care while the rest were discharged from hospitals.
The highest daily fatalities yet were also recorded, with 19 fatalities confirmed bringing total deaths to 253.
The new cases are distributed across counties including Nairobi, Kiambu, Mombasa, Machakos and Kajiado.
Aman noted that the virus had spread to 44 of the 47 counties. Baringo, West Pokot and Samburu counties are the only counties yet to record a case.
"Nairobi and Mombasa Counties continue to record the highest attack rates in the country. This is the number of positive cases per 1000 people," he further disclosed.
Aman, however, also worryingly observed that many Kenyans continued to flout government regulations on the pandemic.
He stated that the high rate of local transmissions meant that citizens could not afford to ignore containment measures devised by experts.
He also called out political leaders who have been on the spot for hosting large gatherings and ignoring directives on curfew, social distancing, and the wearing of masks.
Aman further promised that the government would take action on bars which were operating despite regulations keeping them closed due to the pandemic.
He noted that the offending establishments had taken advantage of the provision allowing restaurants to operate.
"Covid-19 does not make any distinction on who it infects. As the Cabinet Secretary said, you can get it, I can get it, we all can get it," he asserted.