Twenty-five more people have tested positive for Covid-19 in Kenya bringing the country's total number of confirmed cases to 490
While issuing the daily Covid-19 briefing at Afya House on Monday, May 4, Health CAS Mercy Mwangangi announced that 1,012 individuals had been tested for the virus over the previous 24 hours.
Of the 25 cases who are all Kenyans, 13 were men and 12 were female
Six were discharged after recovering bringing the total number of recoveries to 173.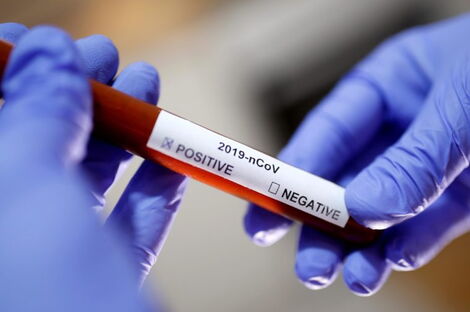 File image of a Covid-19 testing kit.
Fifteen of the cases originated from Nairobi while 10 were from Mombasa with the youngest being a six-month-old baby and the oldest being 60 years old.
"The cases are distributed as follows; Eastleigh (8), Mathare (1), Kawangware (2), Umoja (2), Kahawa West (1), and 1 in Kariobangi South.
"In Mombasa, Old Town (8), Bombolulu (1) and Jomvu (1)," she stated.
The CAS also sounded a warning to vendors who fit more than one mask to buyers before making a sell.
"We must observe social distancing. We must continue to wash our hands frequently. We call on you to stay at home and only go out when it is absolutely necessary.
"We have also noted there are vendors who continue to allow people to fit more than one mask when buying. This is a dangerous practice and can lead to mass infection," she noted.
The Ministry of Health also disclosed that it was still carrying targeted mass testing despite a poor turnout recorded on Sunday, May 3.
"We are doing targeted mass testing in the context of the Covid-19 cases that we have identified to make sure the virus is not circulating within the population," explained the CAS.
On Sunday, there was a low turnout in mass testing since, in Kawangware, only 800 people were tested against a target of 2,000 while in Eastleigh, only 493 people turned up against a target of 3,000.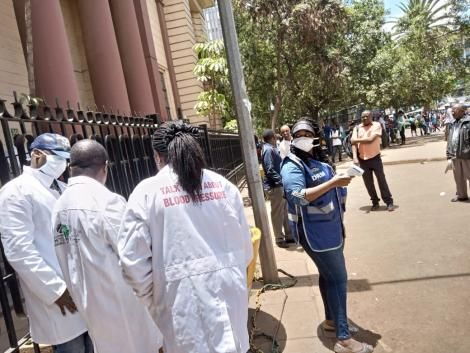 Medics conducting random screening for Covid-19 symptoms at National Archives, Nairobi on Saturday, March 21, 2020