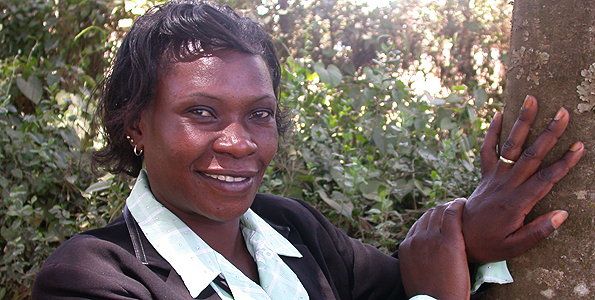 Not many people would be brave enough to open up their murky pasts to scrutiny, pasts that involved casual sex, alcohol abuse, and lawless nights where one-night stands were akin to a cup of tea.
This is a kind of past that most, including Mary Wangechi, wish they could erase. It is now 17 years since she turned her back on her "shameful" past, but as she points out, the scars she bears will always be a painful remainder of what she could have done differently.
Here's her story
"I was a very beautiful woman in my youth. I also loved partying. This made me very popular in local night clubs in Ol Kalou, where I come from. I had dropped out of school in class seven due to lack of school fees, therefore I could afford to dance and drink the night away from Monday to Sunday.
Sometimes, I would spend the night in bars or leave with the person I was partying with.
Everywhere I went, I swept men off their feet. But I was also very choosy. I felt that my beauty could not be shared with just any Tom, Dick and Harry. To land a date with me, you had to have money, and lots of it.
Many of the men who approached me gave up, after finding out that they did not measure up. When I turned 20, I fell in love, and moved in with this man who had managed to steal my heart. A year later, I gave birth to a baby boy. Unfortunately, our relationship did not last, and after sometime, we went separate ways.
In 1997, I got into another relationship. My boyfriend lived and worked in Nakuru. It was the perfect arrangement for me because I could still continue with partying, which I hadn't given up even after the birth of my son.
I enjoyed the thrill of men chasing after me, but remained fairly faithful to my boyfriend, even though I continued to flirt with my admirers. Due to my single-like behaviour, many of them thought I was single. Among them was this very well off man. He was married, but very popular with fellow club-girls for his generosity. He couldn't understand why I resisted his advances. He was persistent though, despite my vigorous attempts at embarrassing him in public.
A year later, my boyfriend suddenly went quiet. He cut off communication and began to avoid me. Whenever I made plans to visit him, he would claim to be too busy at work or out on a business trip. I could tell he was lying, and wondered whether he had gotten a new girlfriend. Two attempts to resolve the conflict, whatever it was, bore no fruit.
After our relationship ended, I embarked on a revenge mission. I wanted to hurt him like he had hurt me. I began drinking heavily, and started to sleep around. Now that I look back, the only person that my irresponsible behaviour hurt was me.
This is about the time that I gave in to the rich, married man. He had the money to spoil me, and catered for most of my needs. With time, I threw caution to the wind and started to have unprotected sex with him. I had become his mistress. The tide in our 'relationship' turned in 2000 when his wife passed away.
Rumours said that she had succumbed to AIDS-related complications. I rubbished them aside, and even had the audacity to attend her funeral in Eldoret, in solidarity with my boyfriend. In spite of my optimism, I couldn't ignore the rumours – and the piercing looks that followed me everywhere I went.
A year later, I fell sick. I had excruciating chest pains that wouldn't go away. I went to Kijabe Mission Hospital where I was diagnosed with pneumonia.
No one told me about my HIV status, which was a relief because I didn't want to know. However, the diagnosis shook me so much; I went into a coma for three days. When I came to, it suddenly hit me that I had no one to turn to. I had been in bad books with my family for a long time due to my promiscuous lifestyle. How could I approach them? How could I convince them that I intended to change and become a better person?
After leaving hospital, I opened a kiosk at a shopping centre near my home, with some of the money I had saved. I also started washing other people's clothes on the side to make an extra coin. I was determined to start anew.
It wasn't easy though. Apart from a short stint as a house girl when I dropped out of school, I had never had to work for a living. I was used to the easy life. The rumours concerning my health also kept haunting me. Unable to ignore them any more, I confronted my widower-boyfriend and demanded to know if it was true that his wife had been HIV-positive. He dismissed the rumours and tried to sweet-talk me into reviving our relationship. I turned him down.
Later, I joined a local church, and got saved. I also moved to Nairobi, where a brother of mine hosted me for a while. Life became less stressful, especially since no one here knew my story. I also started selling second-hand clothes, and didn't have to rely on handouts for my upkeep.
In June 2004 however, I came down with tuberculosis, and began to undergo treatment at Mbagathi District Hospital. I was still in denial though, and refused to take a HIV test.
Two months later, a 'prophetess' at a church I had taken refuge in declared that God had healed me completely, and commanded me to throw away all my medication. Foolishly, I did. Then TB took a toll on me. I lost weight drastically, and got so weak, I could no longer cook or visit the toilet without help.
My brother feared that I would die, and took me back home. As you can imagine, I was the talk of town. I had become a shell of what I used to be. I was emaciated, my former beauty gone, and in its place a grotesque bony anatomy. Neither my relatives nor my friends were willing to be seen with me.
But my son, then 13, stood by me, even though all this time, he had been living with one of my sisters. What kept me alive was the fact that he still loved me.
I was admitted at the local district hospital, where I kick-started my TB treatment. By God's grace, I recovered fully after six months. But I was still in denial, and convinced myself that my recovery meant that I was HIV-negative. However, I was forced to face my fears when my former rich boyfriend passed away in 2003. Subsequently, I began to notice how vulnerable my health had become. A common cold would hit me hard. Stress checked in. I debated about taking a test to put the matter to rest. But I was fearful.
However, early 2005, I gathered enough courage and visited the VCT center at my local district hospital. My fears were confirmed. The results were positive. My CD4 Count was too low, and I was immediately put on ARVs and physiotherapy.
Initially, I struggled to accept my status. I constantly suffered bouts of denial, and hated myself for the mess I was in.
I was convinced that people would gossip and avoid me for the rest of my life, and that my son would always be a point of ridicule. He had suffered enough already. As time went by though, I began to accept my status. The nurses and counselors at the hospital also encouraged me. I realised that I could face my responsibilities and live my life like any other person. I also had a son that I needed to educate and nurture. I braced myself and slowly began to collect the shattered pieces of my life.
My son was the first person I made amends to. I opened up to him about my status. Surprisingly, he took the news better than I expected. His acceptance lifted my spirit, and encouraged me to reach out to our neighbours. Many rejected me. This rejection though painful, wasn't as bad as that from my own family. They stopped talking to me and did not want to be associated with me.
I soldiered on though, and joined various groups for people living with HIV.
New beginning
In 2008, I met a man who would become my husband, at one of these gatherings. He was also HIV positive. Our friendship was instant, and within a short time, we began to date. He joined my church, and together we announced our intentions to get married. Many well wishers from church came to our aid, and in November the same year, we held a humble, but colourful wedding. Many people turned up, most of them to witness the 'wonder' of the HIV-positive couple that had dared to get married. That I could handle, what was difficult to bear was the fact that besides my son and one of my brother's, no other relative turned up.
However, we were glad to have started our marital journey with God's blessings. A few months later, we bought a second-hand television set. Unknown to us, it had been stolen. The police just turned up one day and arrested both of us. We were unable to locate the seller, and were taken to court. Though I was released, my husband was jailed for three years. I nearly fainted when I heard the judgment.
How unfair could life be? We had just gotten married, and were looking forward to a happy life. As I went back to an empty house that day, I knew that I had two choices, to give up, or to continue living, with the hope that I would be reunited with my husband once again. I took the second choice. He will be released in June this year, and I cannot wait for him to return home, so that we can walk into the future together.